In last years there is a growing trend of direct shoping in china eshops. Pioneer of china eshops was indeed dealextreme.com whose big advantage was (and is till today) zero postal costs. Not limited to minimal price of goods but for any amount. What you order doesn't matter – the postal costs are 0 EUR. I don't know how this business model works but they must have it calculated as they are on the market for many years. Perhaps there is a higher amount of people who feels shamed if they order only LED keychain for 1 $ if postal costs must be a lot more. Or maybe there is completely other trick in that business, who knows?
I've bought a flashlight for my SLR on ebay a few years ago. It was original Nikon, used model, but for good price. I've decided that price vs. power ratio is good enough for my rare flashlight needs. It was working without any problem from the beginning but after some time an embarrassing problem appeared. Quite often (at the end almost every third shot) flashlight fired with maximum intensity and reset itself. All settings went away. Flashlight became unusable. This is a risk when you buy used things (and more often new things as well :)), simply you're buying a pig in a poke. I knew the risk – this was lost for me.
After some time without a flashlight I decided to get a new one. I already knew what I need. Simply when there is low light conditions I want to fire flash to ceiling using small flash reflection panel to get "merry spark" into the eyes.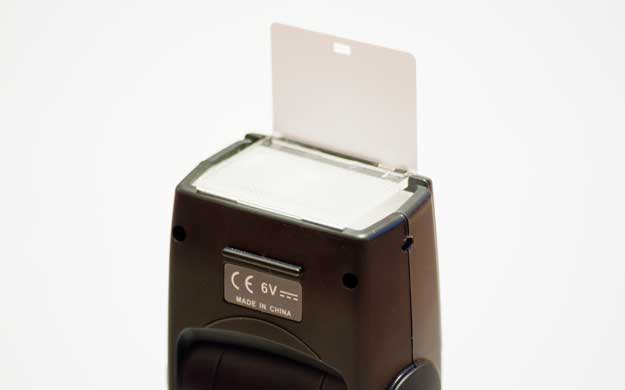 And I found such one on dealextreme.com. I didn't do market researches and I'm not telling this one is the best you can find. I simply found the first one which satisfied my needs. I ordered it (together with other goods which somehow jumps into the order :)) and after about 2 months (don't be surprised from long delivery times, it's not priority mail) I found my delivery notification in my postbox. Next day I was unpacking the flashlight at home.
To buy from China is always a little lottery. The quality of goods is different. I don't mean piece to piece (though this is not unusual too) rather than design and production of individual model. You can't see it from screenshots normally. A big help is usually responses from other people who bought the same product. So I didn't expect "a miracle" but the quality based on price (low) and mainly the funcionality. And I was kindly surprised based on these expectations.
What is delivered: a bag for flashlight (I don't need this as I carry flashlight in my camera bag), flashlight, a stand for it if you use it as slave flashlight (this functionality is a cherry on cake for me, I didn't expect it). Build quality is as good as price is set. You can see it's a kind of low cost product but "cutoffs" didn't influence functionality.
For example I was surprised with "oldschool" on/off button – it's rotating intensity button (I haven't seen this for more than 10 years) with typical sound at the beginning. Or LED diode lights are not difused but concentrated, flash reflection panel is harder to plug in etc.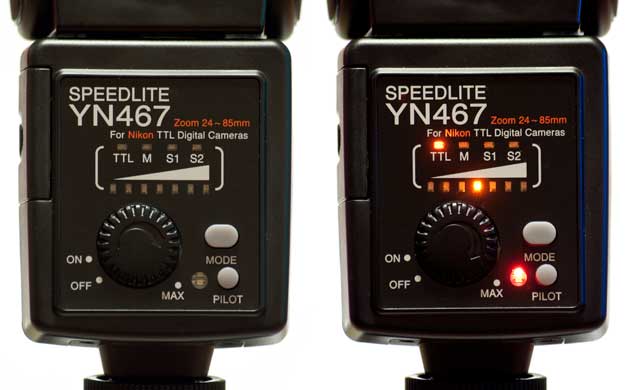 But I want to highlight the most important things about flashlight. Is it usable? And I must say at this place – it is. This flashlight fulfils targets I defined at the beginning fully. With automatic TTL mode a camera produces a good exposed pictures, flashlight is not more-or-less noticeable in the final picture. I don't use front flashing though flashlight offers zooming feature as well. Flash is "zooming" if it's pointing to ceiling too (it's useless). It supports some extended functions of SLR camera like rear curtain synchronization, long time, red eye reduction (this caused about half a second delay on my camera). And you cannot set flash correction on SLR camera body, correction is set up entirely using rotating intensity button.
Flashlight works well in slave mode too, I've made a couple of test shots fired by SLR camera integrated flash. This can be arranged if you include more of these flashlights, which is "doable" because of price of the flashlights. I couldn't test battery life yet but manual says you can fire from 100 to 1500 times with 4 AA alkaline batteries. The Guide Number of flashlight is 33. After a few first shots I've noticed the flashlight didn't finish with loading itself if I made shots too fast. And therefore the shots "without the flash expected" were underexposed. It's probable that its loading for flash takes longer than original Nikon flashlight so it must be counted with before. I wouldn't recommend it to be used as prime wedding flashlight.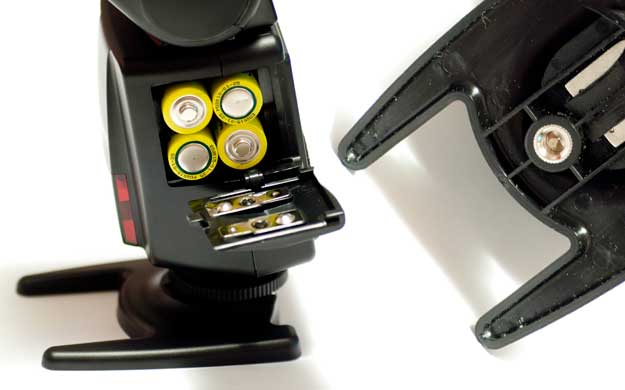 And result: with really low costs you can buy fully functional extern flashlight for your SLR which is very userfriendly, always ready to light up interiors with lower light conditions. The ratio of price vs. power is great. I really recommend it.