Just before photography I've been keen on music – using the Catman Productions brand mark. I like music which has melody/rhythm you can hang on, where you feel comfortable and you don't need to "fight" with the music. I can chill out with it, it uses noticable rhythm line. It I had to align it with styles I like (but it's a very rough compare) those would be chill-out, downtempo, trip-hop, drum&bass a similar boxes.
I don't have a classic music schooling and I don't play any music instrument. Anyway I've decided to mix tracks of my favourite songs into one continuous CD mix. I was inspired by many "DJ mixes" created by my favourite authors which were very popular that times. It's mix of songs continuously fading from one into another so the listener doesn't notice it.
I worked on this album in years 2001-2002. I used Samplitude Studio 2496 program. Single songs were cut off to pieces – samples, then I selected the most interesting pieces not to bore you – listener and mixed all of them together seamlessly. You have to judge how I accomplished the mission.
And here is the result – my first album:

Catman Productions – DJ Mix Set Vol. I
You can download whole album (ZIP, 100 MB) here. Attention: If you are going to burn it as Audio CD, it's important to burn it WITHOUT SPACES between songs (create Gapless album or set pauses between songs to 0 seconds).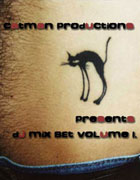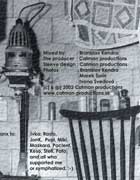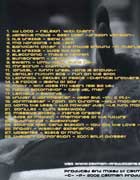 Songs on album:
(samples from Madonna – Erotica)
1. Kid Loco – Relaxing With Cherry
2. Depeche Mode – Easy Tiger [Dragon Version]
3. Fila Brazillia – Slow Light
4. Mo'Horizons – Big, J'aim
5. Significant Other – The Middle Ground [ft. Charlie One]
6. Fila Brazillia – Bugs Will Bite
7. Electronic – Make It Happen
8. SunScreem – Psycho
9. Swami – Umbi
10. Mr.Scruff – Chipmunk
11. Orbital – Funny Break [One Is Enough]
12. Bentley Rhythm Ace – Run On The Spot
13. Chemical Brothers – Pocket Of Peace
14. La Rocca – Island Of God
15. Moby – Why Does My Heart Feel So Bad
16. Nacho Sotomayor – Cafe Del Mar
17. Leftfield – Swords
18. Kruder & Dorfmeister – Deep Shit [Part I & II]
19. Dorfmeister – Rolling On Chrome [Wild Motherfucker Dub]
20. Bomb The Bass – Bug Powder Dust
(samples from U.F.O. – United Future Airlines)
21. Gorillaz – Clint Eastwood
22. Massive Attack – Inertia Creeps
23. Edge Of Motion – Memories Of The Future
24. Submarine – Sidewinder
25. Source feat. Candi Station – You Got The Love [Now Voyager Mix]
26. Prodigy – Weather Experience
27. Biosense – State Of Mind
28. Thievery Corporation – 2001 Spliff Odyssey
(samples from Madonna – Erotica)

Enjoy!